The terrorists moved from Kurram Agency and stayed in Rawalpindi, says interior minister
---
News DeskDecember 27, 2022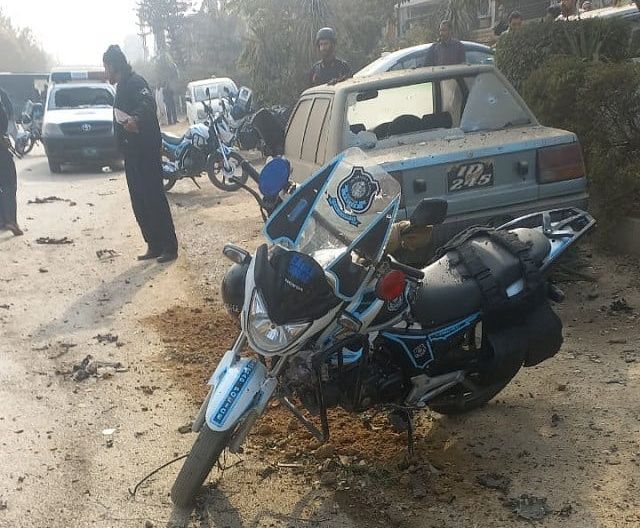 Site of the explosion in Islamabad's Sector I-10. PHOTO: Express
---
Interior Minister Rana Sanaullah said on Tuesday that the suspects and handlers involved in last week's Islamabad suicide bombing have been arrested.
A policeman was martyred and at least six others—including four policemen—were injured in the car bombing on Friday, the first suicide attack in the federal capital in more than eight years.
"We have arrested the suspects of the Islamabad terrorist attack and have also detaine dtheir handlers," the interior minister said in a tweet.
"The taxi driver was innocent and had no role in the attack. The terrorists moved from Kurram Agency and stayed in Rawalpindi. We have detained four or five suspects," he added.
Following the attack, Deputy Inspector General of Police Sohail Zafar Chattha had said the police spotted a "suspicious vehicle" in the I-10/4 sector at around 10:15am with a man and a woman inside.
He added that the vehicle was stopped by the Eagle Squad.
"The two came out of the vehicle. The man with long hair, while being checked by the officers, went inside the vehicle for some reason, and detonated himself," DIG Chattha said.
"As a result, a police officer from the Eagle Squad was martyred and four others were injured in the incident."
The bombing, claimed by the Tehreek-e-Taliban Pakistan (TTP), took place near the police headquarters on the main road leading to government buildings housing the parliament and other high offices.
Since then, Islamabad has been on high alert and security arrangements have been tightened.
It was the first suicide attack in Islamabad since the courthouse bombing in 2014 that killed 10 people.
'Special security plan'
In light of rising security concerns, the Islamabad police on Tuesday issued a 'special' plan, keeping security on high alert.
In accordance with the plan, the police have set up 25 temporary checkposts across the city and are constantly monitoring the entry points of Islamabad's Red Zone area with the use of Safe City cameras.
In an early morning tweet, the police furthered that they are also monitoring metro service passengers through video recordings.
"Legal action will be taken against unspecified number plates and unregistered vehicles," the police stated, directing citizens to ensure their number plates were issued by the excise office.
They have also requested foreign nationals to carry their identification documents with them and asked landlords to "register tenants and employees at the nearest police station or service centres."
The Islamabad police maintained that those employing unregistered local or foreign workers will be investigated.
The police also instructed citizens to report any unusual activity on the 15-helpline.
The plan comes two days after the US, UK, Saudi Arabian and Australian governments issued advisories to their respective citizens in Pakistan, prohibiting their nationals in the country from visiting a five-star hotel in Islamabad because of the possible threat of a terrorist attack.